News
February 2015-Buy One Donate One Continues!
I had a nice response to my BODO offer in December but I still have plenty of books to donate. So I'm continuing the BODO offer through May 2015 (or until I run out of books--whichever comes first). To recap--for every copy of Silly Frilly Grandma Tillie that you purchase, I'll donate a copy to a school of your choice.

Books and Skype offers have been sent to schools in:
Longmeadow, MA
Milton, MA
Tulare, SD
East Meadow, NY
Lynn, MA
Marblehead, MA

December 2014 Buy One-Donate One!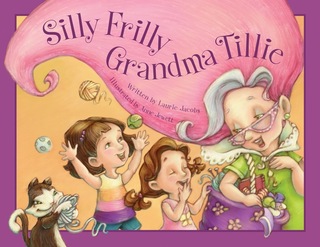 Buy a copy of Silly Frilly Grandma Tillie during the month of December 2014, and I'll donate another copy to the school of your choice along with a free author Skype visit!

Why are you doing this?
When school budgets are cut, teachers struggle to get books to the children who need them the most. I want to help change that…and to spread a little silliness!

How does this BODO work?
Buy a copy of Silly Frilly Grandma Tillie from a bookstore or online retailer, email me a pic of your receipt along with the name and address of a U.S. school to which you want a book donated, and I'll send a copy along with a certificate for a free Skype the Author visit.

Who pays for the donated book and mailing?
I do!

What if I buy multiple copies of Silly Frilly Grandma Tillie?
Then I'll donate the same number of copies to the school of your choice.

Is there a limit to the number of copies you'll donate?
I will donate up to 100 copies. I'll post an announcement on my website once the BODO ends.

Can I buy the book from you?
No, but you can purchase the book through bookstores and online retailers.

Why should I buy Silly Frilly Grandma Tillie?
• Kirkus Reviews: "the capricious tale will have young girls wishing for a silly grandma just like Tillie…"
• Horn Book Reviews: "the story is endearing."
• A Gelett Burgess Award-winning book!


SFGT on SAG BookPals Storytime
Still not sure? Watch and listen as the book is read by actress Kaitlyn Dever for the Screen Actors Guild BookPALS Storytime!
Thank you for your help!
Email your receipt to me Laurie [at] laurieajacobs [dot] com
Skype visit today with the second grade class at Woodbury City Elementary School
I had the great pleasure of talking to a group of second graders via Skype about Silly Frilly Grandma Tillie. They asked thoughtful questions about the book and my writing in general.
Skype is a terrific way to reach classrooms across the country. If only the video didn't freeze at the end!
New Review says Silly Frilly Grandma Tillie is great for Grandparents!
Lindsey McDivitt posted a great review of Silly Frilly Grandma Tillie on her blog "A is for Aging, B is for Book." Lindsey's blog focuses on positive images of aging in children's literature. What I particularly love about this review is the way Lindsey ties the book into the recommendations made by Connie Goldman and Richard Mahler in their book "Secrets of becoming a Late Bloomer: Staying Creative, Aware and Involved in Midlife and Beyond."
I did a reading at the Boston Public Library this summer in July--great event, lots of kids and lots of participation.

I'll be at the Princeton Children's Book Festival on September 8, 2012.

And I have to mention the terrific activities that Danielle Scribner designed in connection with Silly Frilly Grandma Tillie for her Mommy and Me Book Club--lampshade races, bubbles, hats!
I'll be reading Silly Frilly Grandma Tillie with the Project Sunshine Book Club on March 7, 2012 at Harlem Hospital in Manhattan. Through the generosity of my publisher, Flashlight Press, twenty-five books will be donated to patients at the hospital. I plan to bring some of the silly playful spirit of Grandma Tillie and do an art project with the kids.

I found out about the program through Naomi Remis Sugar, a friend of my family. Naomi has been associated with Project Sunshine for several years, making frequent trips abroad to work with one of the Project Sunshine satellite programs. Project Sunshine is a nonprofit organization bringing programming - recreational (arts), educational (tutoring and mentoring) and social service (HIV and nutritional counseling) - to over 60,000 children facing medical challenges and their families in 150 major cities across the United States and in five international satellite sites: Canada, China, Israel, Kenya and Puerto Rico. For more information about Project Sunshine, visit http://www.projectsunshine.org.